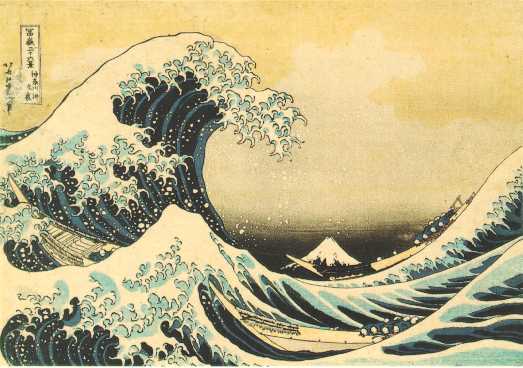 Who has not seen this wave?
Ceramics, napkins, posters, museum calendars
Burden us with this solid chunk of water,
This photograph of one imagined moment,
Appalling if it were real, now made decor.
He knows how to sell the sea--
Such an islander, he thinks like a fish--
He's swum under these breakers, out
Where you can't touch bottom, to push
Back up. Bang, the wave comes down,
In real seas. But here the death blow
Is suspended--studied--carved in wood.
Prints come off the press like gulls
Lifting form a dump reluctantly,
The white pages quakily settling
Into racks, then bins, and drawers--
His portfolio burned with each house.
His only safe was other people's homes--
If they bought, his art survived.
Foam on the moving ridge, he
Moved from workshop to outdoors,
Abandoning homes, rooves, heat,
Helped, finally, by his daughter,
But accelerating in age, he rose,
So light his hand barely touched the tools,
And his observing soul shined through,
Casting off these icons for us to place,
Like banners for the dead, or one white chrysanthemum,
Our huts into his, becoming,
Like him, a bit crazy for the million bubbles
In each wave breaking, and the courage
Of sailors paddling fast to keep abeam
While he practices, repeatedly, drawing soul together
In his third eye, seeing, through the chaos,
That simplest of icons, Mount Fuji.