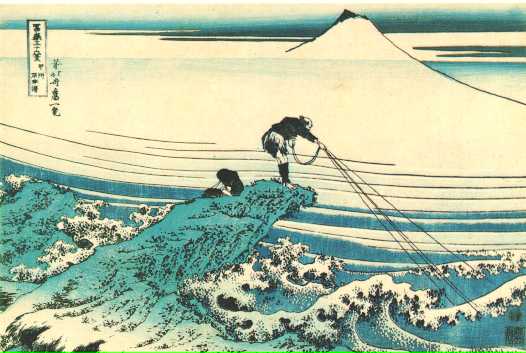 Five ripples and the rough surge
Dwindles into nothingness, a sea
So calm the Buddha naturally arises,
In one breath drawing in the fog,
In another, expelling sky.
Lava so sharp its cuts never heal,
Waves like carved coral, the froth
Rising from deep impulses--no beach here.
The fisherman pulls the net taut,
And it pulls him, in a sudden ebb, teetering.
Behind him, his wife sorts fish,
Huddled like a barnacle, under
The violent wind, the tons of thrashing foam,
And the thump of weighted water.
How like a gentle breast,
Emerging whitely from a silken blouse,
Its nipple irregular, aroused, off center,
As if waiting for the tongue to touch down,
Or teeth to nip, as the whole body,
Delicately veiled, rises into tension,
White sea, white sky, pouring down
But not quite reaching our chaotic hearts,
So far from the divine love, so ignorant
Of our own Mount Fuji.