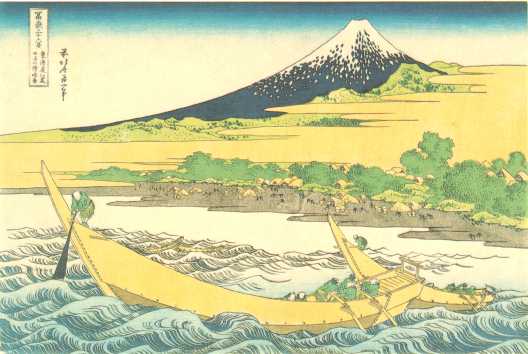 Out of white nothing, the black waves
Roil, become blue, and rock the long boat,
Shaking the steersman on the bow--giddily
He hops, to keep his balance, hoping for a forward surge.
Behind him, four men labor at hinged oars,
Creaking, making wood groan against seam,
But current curses, runs them back toward Tago.
Suddenly sea shifts; another boat comes up behind,
Lunging almost into the stern. The others drift away.
The sand lies bare, and men
Run over it, chasing clams before they dive,
Digging at the bubbles, catching
The squirming, pouting, spitting half-open shell
Before it reaches the soupy sand,
And swims away. Raking, shoveling,
Lurching with shoulder poles, the peasants
Haul away enough to eat for a week--
Dwarfing them, in one sweep of lava we have the largest wave,
The long dark blue slope and its white cap,
Cresting over these tiny hats, the narrow beach, and the clams.
Perhaps the boat men are poling away,
Escaping like Pliny from Mount Vesuvius, when it blew.
Yellow fog, in abstract fingers, covers up
The middle distance, blocking our view
Of the ordinary transition--condensing miles,
Removing the pulsating hills, to stress
This immense curve, pushing up,
This quiet sea, Mount Fuji.