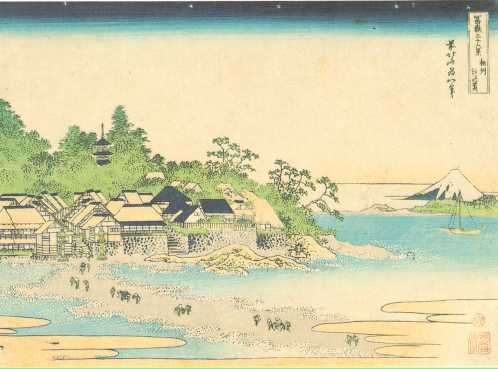 Smudges, the men and horses advance
Across the sandspit, briefly cleared
By the withdrawing tide--so small
The scrambling legs of a horse and rider
Look like a flea with a hat on.
Artificial as a stage curtain, fingers
Of fog spread over the shoals, obscuring
Spars, tufted islands, the facts
That would let us gauge the width,
Length, and solidity of this sudden path.
Like teeth revealed by receding gums, the town
Rises above the beach, built on lava walls,
Barricaded against the piles of loose sand.
Past the twin towers, the travelers go in,
Down a street we see only in the rooves,
Headed uphill to the 6-layered temple,
Or perhaps out to the point, to rest.
From the surface, we guess the snug,
Tree-pressed small town life, so much like
West Newbury. My great-great-grandfather
Docked here, on his black ship,
Shopped for boxes, maps, and fans,
And brought them back to the tree-dark farm
In Massachusetts. But no Hokusai
Sat on the far bank, sketching the Merrimack.
Only Thoreau paddled by,
And the peddler painters, who would put
Your face in a pre-drawn body,
Then leave before it dried. In these artifacts,
I still smell the fish, and the rice balls.
Perspective, still geometric for Hokusai,
Delicately suggested by so many straight lines,
Gives way to panorama now, odd, bunched-up green,
Each blotch a clump of leaves, the lush
Foliage folding over cobblestone and verandahs.
This island bulks up, a stiff climb,
Dwarfing that irregular line of ants,
This one with a cane, that one with a blanket on its back.
A dead hand. But underneath, the people
Clamber along, carrying turnips. Trade
Climbs out of the shallows, unnoticed
By this enormous atmosphere, stretching
To the dark blue of outer space, marked only
By that other island, the pure one,
The inhuman Mount Fuji.