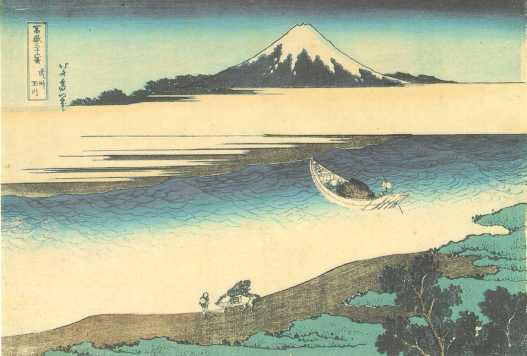 Incomplete, uncombed, half thought-out,
This landscape's vague, too much fog
Out at sea, and a suspicious white
In the shallows, like plum wine,
A Chinese classic in color.
The waves, fractal lines, suggest
Soundings by satellite along the ocean floor;
Almost parallel, but jagged,
Mounding up without liquid force.
The white strip, empty of data,
A break in transmission, errors
In reading, or noise on the line.
Only the boat holds its detail,
Carrying wood away from the beach,
And the farmer, who just bought a cord,
And his horse, bucking, refusing the load.
Like email, this print's a throwaway.
He tossed it off, squinting, toying
With wide bands separating us from,
Rather than linking us with,
The emerging logo, Mount Fuji.