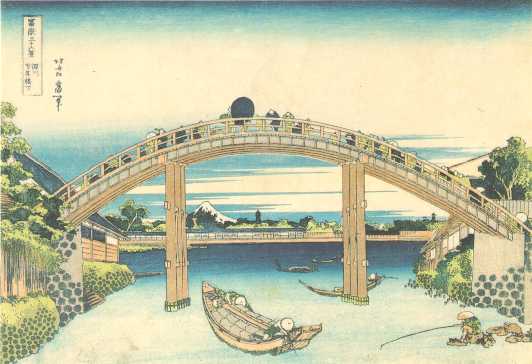 Out of the narrow seaside neighborhood they come,
Burdened and backpacked, struggling up this arching bridge,
So steep they have to lean into every step, climbing
Toward the teetering top, where two men rest,
Watching the traders pole their boat free.
The bridge unites two shores, focuses
Perspective right on a blue tower, tiny,
But almost as tall as that volcano--
This bay's crowded like Foster City canals.
Look--houses line the far side, then fences
Finish off the view: civilization, just
Decorated by trees, moss, and rocks.
So uncomfortably perched on these rocks,
His hat in hand he fishes gently, ignoring traffic.
Fungus creeps down the fence, surmounted
With ivy, leaving no gap to creep through,
A wall, a fortress, a tight ship.
So much sky, the Northern lights
Could go off, and no one would turn,
Steam could shoot out of that huge crater,
And no one would notice Mount Fuji.