Using FileMaker Pro 5

The Best of Online Shopping

Fun with Digital Imaging

Outlining Goes Electronic

Windows 95 for Kids and Parents

Discover Ms Home Essentials

Maclopedia

Trail Guide to America Online

Virtual Playhouse for the Macintosh

Computing with ClarisWorks 2 for the Macintosh

How to Communicate Technical Information

FileMaker Pro

Computing with ClarisWorks 1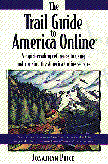 America Online is one of the fastest growing commercial online services. Its terrain includes forums for the exchange of information on a wide variety of topics, from hardware and software to health and recreation, education, entertainment, news and finance, and much more. Before you can start up and step out on the service, you'll need step-by-step instructions on signing on to America Online and navigating its rich range of resources.

The Trail Guide to America Online gives new and not-so- new users a concise guide to getting around and getting things done on America Online. Both Macintosh and Windows users will learn how to:
Make a first connection, and sign-on to America Online
Send e-mail to others and post messages in forums
Get up-to-the-minute news, weather, travel, and financial information
Exchange text and graphics files and download software
Target and visit online areas of personal or professional interest
Find specialized information from a vast array of online databases and libraries.
In addition, the coupon in the back of the book gives anyone with a computer and a modem access to free America Online software and free time online. With a Trail Guide by your side, you'll be fully outfitted for exploring online in practically no time!

ISBN: 0-201-40833-3
Pages: 240
© 1995
Binding: Paper
To purchase at a discount, visit Amazon.com's electronic bookstore. We are proud to be an Amazon.com Associate.