Criteria for an Authoring Tool
Creates all objects you need for search, re-use, customization, personalization

Output in many formats (XML, HTML, PDF)

Output flows into Content Management software
Microsoft Word
Cannot work as content authoring tool by itself

Styles can be translated by other software

XML in Word 2000 is well formed, not validated
Dominant tool in technical communication

Many output formats

Conditionals (up to a limit)

Boilerplate must be saved as individual files, imported by reference

Used with Quadralay Webworks

FrameMaker + SGML does not flow into most content management software (OK for any SGML application)

Only works with Documentum FrameLink going into Documentum content management software
Builds on Word, but editor is proprietary

Accepts Windows Help, HTML, XML, Word, RTF

Stores objects in own database,or SQL Server database

Controls workflow, revisions

Good idea of architecture, shows object list

Output to Word, PDF, HTML, Windows Help, Microsoft HTML Help, Sun Java Help, Oracle Help for Java, XHTML, but no XML output yet
Cheap, fine for Help

Many levels of objects

Imports Word and FrameMaker files

Uses conditionals like FrameMaker

Sun Java Help, Windows HTML Help, CE Help, HTML 4, DHTML output, and well-formed XML (not validated)
Popular software, lives in Word

Output in WinHelp, WebHelp, HTML Help,Java Help, Oracle Help for Java, but not yet XML

Enterprise edition allows dynamic content

Does not handle lots of small objects
Criteria for an XML Editor
Handles text as easily as a word processor

Does everything your word processor does

Validates structure as you go, against DTD

Suggests next tag

Offers tags in menus

Suggests attributes relevant to object

Output flows easily into Content Management Software
Grizzled veteran of SGML wars, robust, debugged, stable, produces XML, XSL

Epic Interchange takes Word, FrameMaker files

Audience profiles allow conditional text, multiple DTDs, personalization

Validates as you enter, shows GUI and structure

Document Map shows objects, attributes, locations

Drag objects to positions marked with checkmarks.

Can publish to multiple formats, including paper, HTML, XML, XHTML, PDF, CD

Output flows into BroadVision 1-to-1, Chrystal Astoria, Documentum, Oracle iFS, XyEnterprise Content@

Publishes dynamic content through Arbortext E3
Cheap, pretty easy to use

Accepts Word documents, SGML, and converts

Accepts content from CMS, ODBC databases; works with workflow software

Validates as you go, shows Structure View

Shows valid attributes, elements

Outputs valid XML, well-formed XML, SGML

Output goes into Chrystal Astoria, Documentum, Vignette V/5
Produces valid, well-formed XML

Shows tree outline view of document structure

Lets you create new elements, attributes, comments

Shows valid elements, correct structure, offers form to fill in.
Plugs into Word, hides tags, stores info in own database, allows search on elements

Validates structure

Outputs XML, with DTD

Requires i4i consulting, customizing

The Helper tells you what element you are in.
Plugs into Word, off the shelf

Turns out XML that is well formed but not validated as you go; checks at end

Works with (is bundled with) XyEnterprise Content@XML

The WorX palette shows current structure, elements in a tree from DTD or schema
Content Management Systems (Static)
Criteria for Content Management Systems
Quality, type, scalability of database

Level of control over version, ownership, workflow process for each object

Updating objects automatically, or with notice

Web interface

Ability to author, control attributes (without redoing DTD)
Robust, stable, debugged

ObjectStore is the database (not a standard)

Outputs XML or SGML

Has no workflow control of its own; works with others
Accepts most formats, such as Word, Quark; uses FrameLink to grab FrameMaker files

Accepts, parses, validates, and maps XML docs to content repository

Works with Oracle, SQL, Informix, Sybase

Good content management, workflow

Validates, assembles on fly in WAP, ebXML,

Allows updating attributes for (3rd party) personalization engines to use
Takes Office 2000 files, SGML, FrameMaker, Arbortext Adept

Good content management, particularly for tech comm

Workflow

Works with MS SQL Server, will work with Oracle

Outputs to print, CDROM, PDF, HTML, XML
Very cheap (free) Java-based file system

OK content management for entire enterprise, customized portals

Version control possible

Needs customization, but can translate XML vocabularies, support new document types
Good content management, accepts SGML or XML, bundled WorX, or XMetaL, Epic, Word, FrameMaker, FM+SGML

Workflow handles review process

Works with Oracle or Informix

Assembles or disassembles XML instances on the fly, applies business rules

Also publishes Word, PDF, PostScript

Metatags must be created in DTD

XML Professional Publisher goes to PostScript, batch processing
Content Management Systems (Dynamic)
Arbortext Epic E-Content Engine (E3)
Accepts valid XML such as Epic Editor

Uses Epic Architect to convert Word, Interleaf, FrameMaker MIF to XML

Stores objects in Documentum, Oracle iFS

Stores, assembles, processes, personalizes com- ponents in XML

Retrieves data from databases on the fly

Publishes XML, HTML, WML, eBook, PDF, Word, MIF

Uses SGML standards, FOSI, not XML or XSL, but handles DOMs
Sits on Chrystal Astoria

Oriented toward documents, but only on the Web

Uses XML throughout

Allows editing of objects, tree views

Detects duplicates, removes

Talks to SoftQuad XMetaL, Arbortext Adept (precursor to Epic)

Allows user profiling, personalization

The software juggles static content, interactive content, rules,templates, and DTDs.
EBT Engenda (now from RedBridge)
Allows direct editing via forms

Accepts files from EPIC, XMetaL, Visio

Converts Word, HTML to XML (not easy)

Long experience, as in Dynabase (now XML aware, rulebased, forms interface)

Good dynamic delivery, but only on Web

Needs customization

Caution: EBT went bust; the software has been taken over by RedBridge.
Forms to fill out, XML applied behind scenes

Accepts many formats, as files (no objects recognized within them)
With Interwoven Team Site, you browse your own mirror of the Web site, using the Smart Content Editor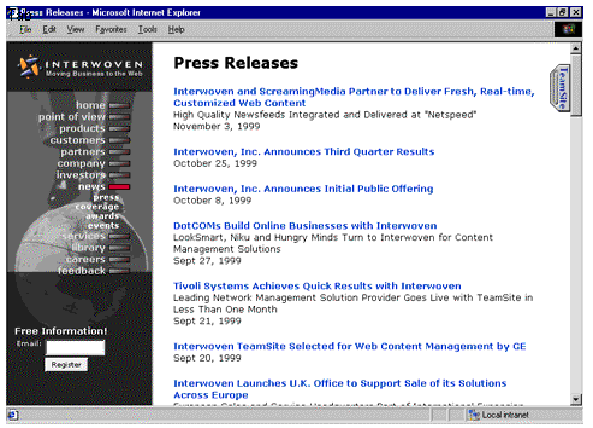 2. Then you choose New Data Content Record (to create a new object)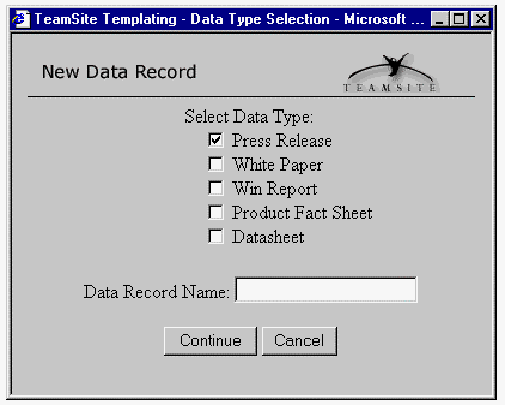 Fill out an Interwoven form with information about yourself and the object you are creating.

Write in the slots in the Interwoven form, or ask for a new section.

Pick an Interwoven display template (stylesheet) and look at a preview.

Check the preview, then revise if needed, or publish via Interwoven.
Aimed at e-commerce

Accepts Ms Office, Quark

Workflow built in, including scheduling release and removal of pages

Adapts to system of visitor, tracks behavior, follows recommendation engine, allows MySite pages

Content categorization for legacy docs, syndication to partners, relationship marketing

Expensive, time-consuming to customize
Web App Server Criteria
Content Management as part of e-business server

Personalization and customization

Syndication